Milwaukee County Jail
Inmate Search for the Milwaukee County Jail
To find inmates at the Milwaukee County Jail, click to Inmate Search page.

Type in as little as a last name and you will be able to see their:
booking number

full name

date of birth

race/sex

height/weight

If you click on the booking number, there will be additional information to view such as:
a personal description

photo

eligiility for release

bail and fine amounts

custody date

link to visit information

charge information

court date and court branch information
Note that a visiting information link is found on the search page for the individual inmate.
Do you need contact information for the jail
Milwaukee County Sheriff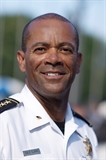 Sheriff David Clarke
Remember that inmates are allowed to make collect telephone calls. They are not allowed to receive incoming calls. If there is a message of an emergency nature, they will be verified and forwarded to an inmate. 
Inmate may receive letters through the mail. They can also receive non-poloroid photos. You can also send to them cashier checks or money orders, however, no cash can be sent through the mail. 
Books must be mailed from approved publishers only such as: Penguin Random House, and Tate Publishing. No packages are allowed from Amazon, Ebay, Barnes and Noble, etc.
Here is the mailing address for an inmate at jail:
Name
Floor, Pod, Cell (if known)
Milwaukee County Jail
949 North 9th St.
Milwaukee, WI 53233
Milwaukee County Court Records

If you are looking for online public records you can find that at the Wisconsin Court Access page. Simply follow the directions to find specific cases. This website provides you access to the records of the Wisconsin circuit courts. You will need to agree to the terms of use and then have available search information such as the party name, county and case number if you have one.




Return from County Jail to Wisconsin Inmates
Return from County Jail to The Free Inmate Locator
---